ASME PRESSURE VESSELS
In the United States, pressure vessel fabrication must comply with the American Society of Mechanical Engineers (ASME) Boiler and Pressure Vessel (BPVC) Code Section VIII Division 1.  The ASME Code regulates standards of materials, welding procedures, qualifications, nondestructive examination and inspection of vessels built for service in application greater than 15 psi.  Typical process vessels requiring ASME certification include;
Chemical, Pharmaceutical and Food Process Reactors – Heat Exchangers – Lethal Service Vessels – Storage Tanks – Transporters – Air Receivers – Mix Tanks – Columns – Evaporators – Fermentation Vessels – Waste Storage Tanks – Demineralizers and many others depending upon the end user's custom application.
Fourinox has built pressure vessels to the ASME code since 1974 and continues today in service to various process industries nationwide and around the world.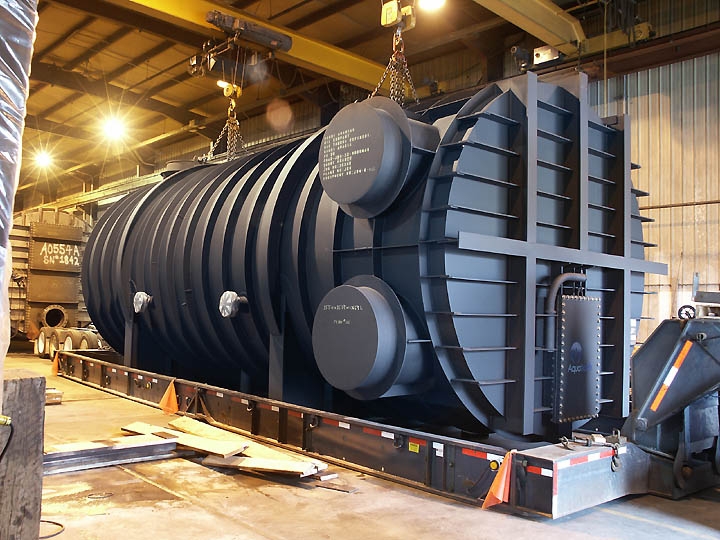 HEAT EXCHANGERS
Heat Exchangers are a sub-category of pressure vessels regulated under the ASME Boiler and Pressure Vessel Code.  Used extensively within industrial process applications, heat exchangers vary widely in their type and configuration.  Based on the requirements of the specific process, heat exchangers take the form of; Shell and Tubes, Plate and Shell, Tubular, Conventional, Dimple Jacket, Half-Pipe, Helical Coil and spiral configurations among the various design options.  As with other custom industrial vessels, heat exchangers can range in size from handheld to large and high-volume units.  Fourinox has fabricated multi-stage heat exchangers up to 14 feet in diameter with 30,000 tubes and over 100 feet in length.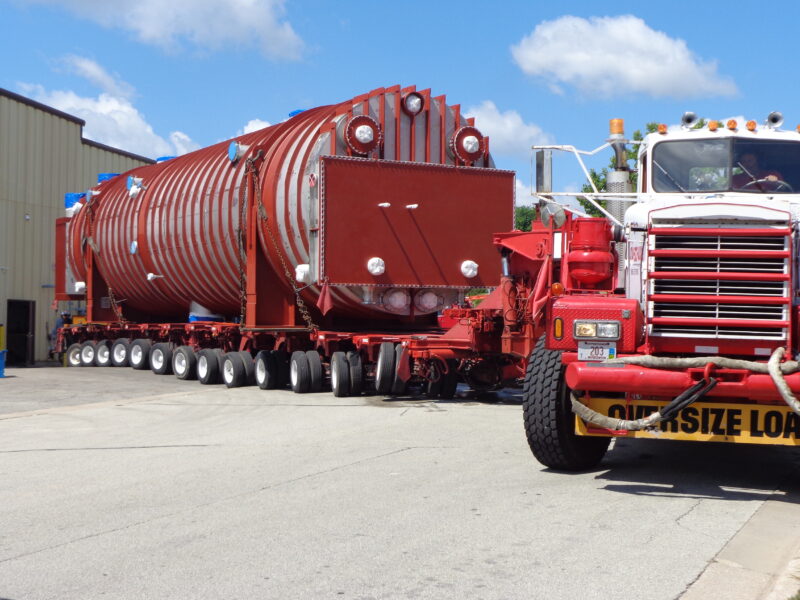 API STORAGE TANKS
The American Petroleum Institute's, API Standard 650 is the U.S. Standard for welded flat-bottom storage tanks.  These tanks are designed to withstand low internal pressures, for the storage of various products including oil, petrochemicals, chemicals and water.  Fourinox shop fabricates API 650 Storage tanks for shipment to customer sites and end user locations across the U.S. and Canada.  Design can be specified in carbon or stainless steel along with internal and external surface coating for corrosion protection.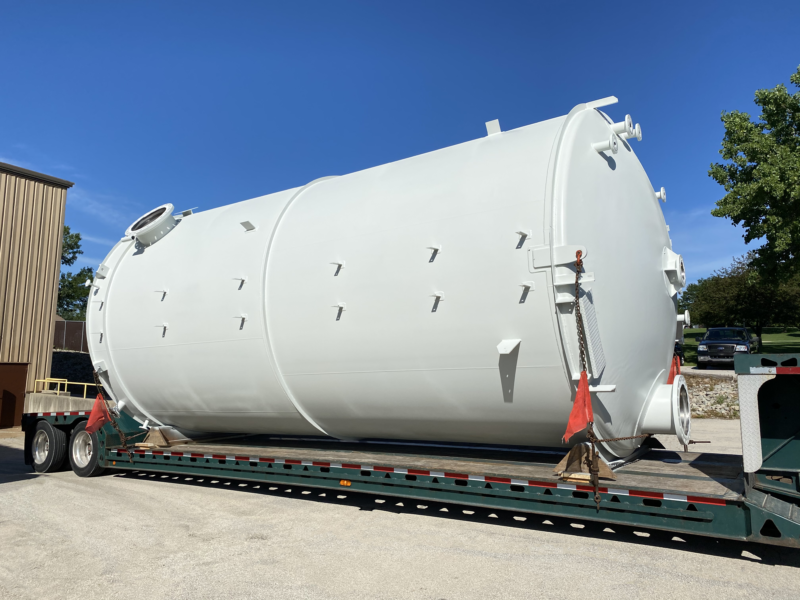 COLUMNS AND EVAPORATORS
Industrial Columns and Evaporators are a category of Pressure Vessel typically used in petro-chemical and water process applications.  These unique process vessels may have complex internal configurations including tubes, trays, baffles, aerators and various forms of process "packing materials" among the many options required for the specific process.  As with other custom industrial vessels, columns and evaporators may range in size form desktop applications to lengths in excess of 100 feet or more.  Fourinox's experience and capabilities are well suited for fabrication of these complex industrial process vessels.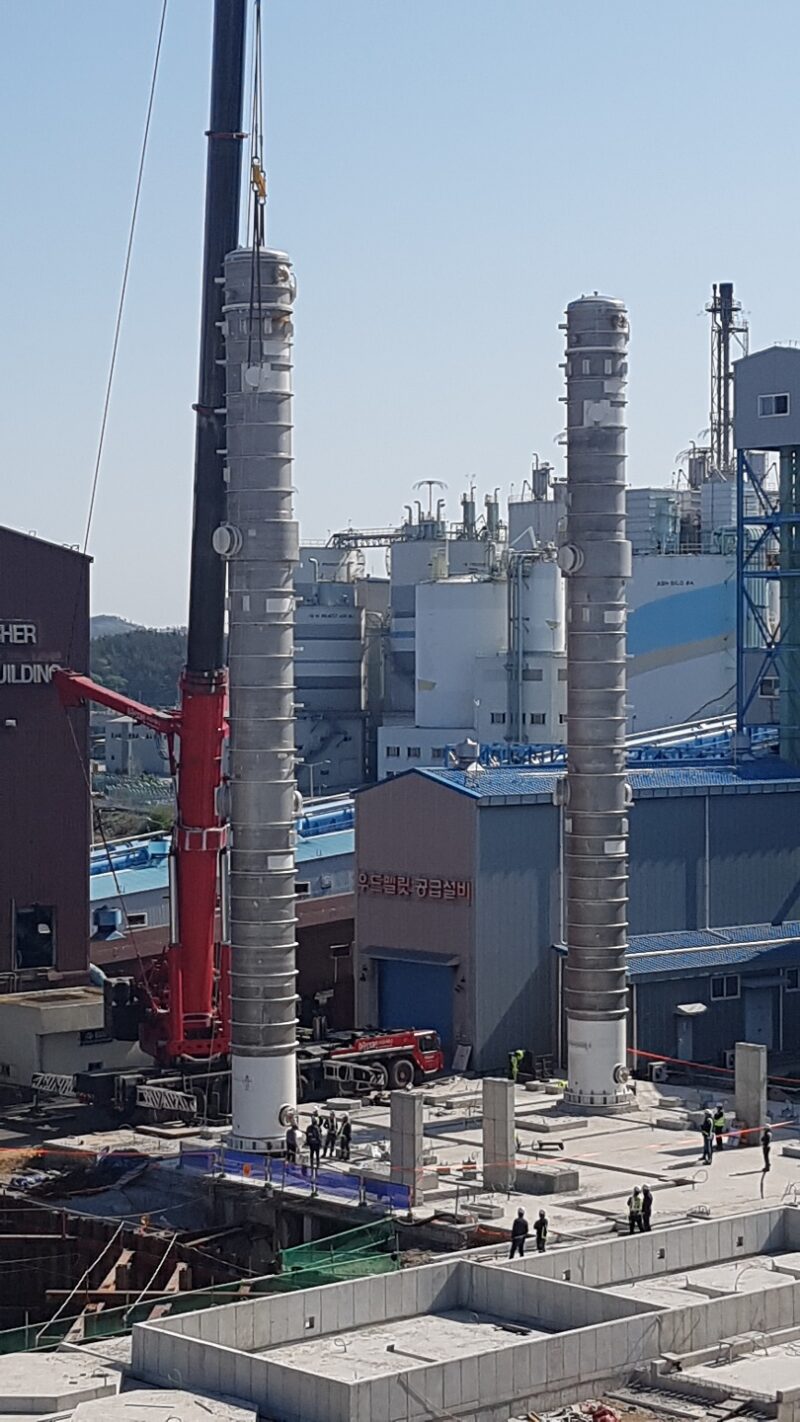 CLADDING
With over 40 years of experience in metal cladding, Fourinox provides vessels and components cladded for service in corrosive and wear intensive environments.  In certain applications, cladding parent material with wear resistant alloys allows for a significant increase in product longevity and once worn, parts can be resurfaced for additional service life.  Our processes include fabrication with explosion cladded materials and various hand and automated continuous weld deposition methods.  Fourinox clads equipment including pressure vessels, tanks, nozzles, pipe spools, valve bodies, Blow Out Preventers, high viscosity chemical process mixers, pulp and paper rotors and tire shredding blades.